Description
Robust and compact, the Toshiba B-FV4 series offers the best value in affordable, powerful label printing solution. It is a series of rugged and powerful label desktop printers which are compatible with all barcode printer control languages on the market. No matter you are looking for a label printing solution to integrate into your existing systems or replace aging operation units, B-FV4 is ideal for seamlessly fitting in, whatever the specification or printing requirement.
Industry:Retail, Transportation & Logistics, Manufacturing, Healthcare, Courier, Post, Commercial services
Application:Shelf label, Mark down label, Product label, Shipping label, Warehouse label, Pallet label, Ticket, Parts label, Picking label, Wristband, Specimen label, Pill bottle label, Stamp label, Shipping label, Asset label
The Perfect Fit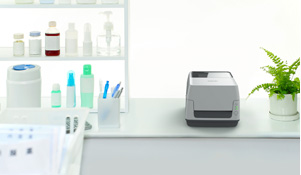 We've designed the B-FV4 printer series to be the perfect silent office helper, small enough to fit into the tightest of spaces with the flexibility to integrate into any environment.
Stylish and sleek yet rugged and powerful, with print speeds to up to 6ips, it handles even demanding printing applications with ease.
(13% faster for the first label print and 8% faster for batch printing compared with Toshiba B-EV series)
Multi-Lingual
Whatever the current application, the B-FV4 series can 'talk your language', allowing straightforward integration into existing systems. With a whole host of connectivity options as standard, the impressively flexible printer really does have 'everything on board' to manage the most diverse printing requirements.
One size fits all – whether direct thermal printing or using thermal ribbons, simply choose the options to suit your application.
DESIGNED FOR THE USER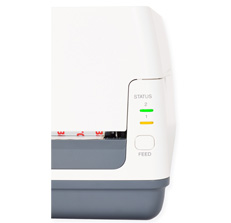 For ease of use and maintenance, the B-FV4 series has been designed with the user in mind. Drop-in paper loading allows quick and easy changes to media, and critical parts can be upgraded with a snap-in print head and platen assembly.
Combined with the all-important Toshiba reliability, the B-FV4 is a rugged and robust workhorse for any environment.
The B-FV4D courier model is specifically designed to enable easy installation for shipping applications. With special features like the Built in Peel off function , AC adaptor fitted in side the case and fixed paper guides this model is perfect for the courier/logistics industry.
COST-EFFECTIVE PRINTER&MEDIA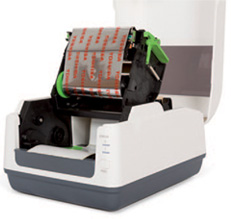 Compared to printers in the same class, B-FV4 offers best cost performance for label printing with LAN interface as standard. For a low cost of ownership the B-FV4 thermal transfer printer is available with a 300m ribbon, improving workflow efficiency with less media change required.
Ribbons are available in various grades and qualities and are compatible with the current Toshiba desktop series, allowing for a seamless upgrade and flexibility to use existing media stocks before converting to the lower cost 300m ribbon(for both 1/2" or 1" core).
FLEXIBILITY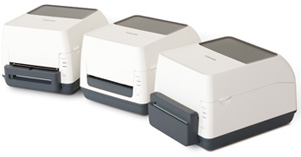 A variety of both built-in and optional features provides true versatility to support a wide range of local and remote applications.
Additional features include:
Managed print services
USB memory support
203 or 300 dpi variants
Cutter options
Peel-off module
Emulations/Basic Command Interpreter
CUSTOMER BENEFITS
Compact and stylish
Range of interfaces as standard
Emulation capabilities
Ease of use and maintenance
Low energy consumption
Longer 300m ribbon
Managed printer services
The Toshiba B-FV4 - Easy To Use and Cost-effective Desktop Labelling Solution.
Reviews (0)
view all
back